E 100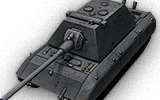 4.5 stars - 2 reviews
You must to write a review.
Reviews
01. 08. 2022 - 668 battles - 1480 damage
Solid tank , armour is fairly good but a lot of gold spam can get it , although it can be well angled to defend against it , especially with the turret.

Both available guns are a fair choice .

Mobility is ok for a tank with this armour protection and it can spot for itself if it needs to.
0
22. 08. 2022 - 146 battles - 3659 damage
Small gun is the best on this thing
0