T95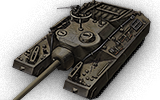 5 stars - 2 reviews
You must to write a review.
Reviews
30. 07. 2022 - 93 battles - 2786 damage
one of the best tier 9 tanks in the game. The armor is really thick and can only be penned in the cupola and lower plate by gold rounds. The tracks and angled side armor makes the tank hard to pen from the side aswell. To bounce a lot of shells angle your tank a lot when reloading and block the cupolas with your gun
1
02. 08. 2022 - 250 battles - 2317 damage
Moving castle, just pray the teammates hiding behind you are not idiots. If they have some IQ, then you can lead the win for at least on your line.
0