VK 30.01 (P)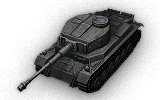 3.5 stars - 2 reviews
You must to write a review.
Reviews
31. 07. 2022 - 22 battles - 1185 damage
If you play this tank like a heavy, close quarter or 2nd lign, it's one of the worst at tier 6.

If you use it as an aggressive medium, using it's absolutely massive hp pool and insane dpm and trade intelligently, peeking when the enemy is reloading or using the short reload to trade 2 shots for 1, then it instantly becomes an absolute beast capable of destroying any same and lower tier opponents as well as some higher tier.

It will become useless against tier 8s and the lack of any real mobility can be the source of problems. You also dont have any armour so as previously mentioned you should base your fighting on trading shots.

Overall a pretty great tank
1
30. 07. 2022 - 40 battles - 291 damage
This tank is so slow that it feels like people are pushing this tank.
The damage is pretty ok.
0