Type 64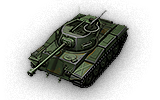 5 stars - 2 reviews
You must to write a review.
Reviews
01. 08. 2022 - 79 battles - 457 damage
The best light tank tier by tier with very high stock top speed of 72kmh, incredibly high dpm for tier 6 and very good viewrange.
If you want the best performing tank you can get this is it, you can go around the map faster than any other tank whilst having very high rate of fire allowing you to miss few shots without lowering performance at all.
Only weakness this tank has is its big silhouette which.
0
10. 12. 2022 - 539 battles - 907 damage
0