FCM 50 t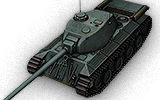 2 stars - 1 reviews
You must to write a review.
Reviews
30. 07. 2022 - 633 battles - 1008 damage
Pros:
- Good mobility
- Excellent viewrange
- Acceptable dpm and gun handling

Cons:
- Useless armor
- Bad camouflage
- Bad alpha damage

Overall this tanks is not good at all. It's a relict of the old WoT and it has no place in the current meta (except as external engine for pushing KV-4s and KV-5s on their ramming crusades). The armor is worse than on most tier VIII mediums and the guns specs are just underwhelming by 2022 standards. It's excellent viewrange used to make it a good scout, but the lack of camouflage completely negotiates this purpose. It still has it's moments, but I strongly advice you to not purchase this tank regardless if you are an experience player or not.
0