M10 RBFM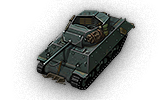 5 stars - 2 reviews
You must to write a review.
Reviews
31. 07. 2022 - 215 battles - 473 damage
Great for scouting with 445+ VR easily, gun is good too but penetration feels average. Will recommend for just 1.5k bonds
0
31. 07. 2022 - 115 battles - 705 damage
The best T5 for any f2p to grind credits/train crew for France. Only 1500 bonds in bonds shop. All rounder, use dpm to obliterate your enemies. Boost viewrange to 445m. Don't rely on your armor but turret bounces shots sometimes.
0