Valiant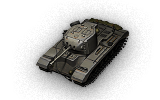 1.5 stars - 2 reviews
You must to write a review.
Reviews
09. 08. 2022 - 40 battles - 556 damage
One of the worst tier 5 tanks. Its not a medium tank, its more heavy than medium. Its really slow (19 km/h) and it has only 91 penetration on AP. DPM and aiming are bad too.
0
22. 08. 2022 - 49 battles - 2385 damage
0