IS-5 (Object 730)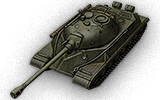 3 stars - 1 reviews
You must to write a review.
Reviews
18. 09. 2022 - 80 battles - 2413 damage
Washed IS-3 clone which is worse in every way that matters. Available in the bond shop though, so it could be a valuable pickup for F2P IS-3 enthusiasts.

Pros:
-Better hull armour than the IS-3, more angular pike means UFP isn't an autopen for anything with 240+ pen, smaller LFP and angled sides make it troll a lot more
-High-velocity APCR standard helps make long range shots less painful, 270 HEAT premium lets you shoot German turret roofs as weakspots
-7 degrees of gun depression on an IS-3 clone???

Cons:
-Sluggish, turns slow and never gets to use its top speed because of garbage engine power/terrain resist
-Turret armour is worse than IS-3, has cupolas and keeps the roof weakspot
-Gun handling is AWFUL. So bad. IS-3 gun handling is underrated, it's actually above average for the tier. This thing, on the other hand... I 3 marked mine with rotation over rammer, just because I was missing so many shots.

Overall, IS-3 is probably the stronger tank with a higher skill ceiling thanks to the more reliable gun, but this tank is perhaps more beginner friendly and easier to use thanks to the more troll armour that can save you when you get caught in the open, and the better gun depression making positioning easier.
0