O-I Experimental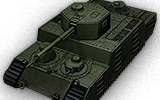 4 stars - 1 reviews
You must to write a review.
Reviews
07. 11. 2022 - 169 battles - 798 damage
I really like this tank. Cannon and DPM are very great. Armour is very good too. Tank is so slow and big so this is very easy target for arty and the tank is too hard to hide.
0