VK 75.01 (K)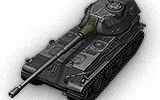 4 stars - 2 reviews
You must to write a review.
Reviews
01. 08. 2022 - 179 battles - 2096 damage
Pros:
- 490 alpha with a decent pen
- can side scrape if angled properly

Cons:
- Rear turreted tanks are generally weird to play on most maps
- Gun trolls a lot
- Easy to shoot cupola
- Turret is pennable by most gold shells
- Mediocre mobility at best
- Long reload

The only unique thing about this tank was 490 alpha. Since most tier 8 heavies are mostly >440 alpha it does not feel unique anymore. You will have a hard time playing on most maps thanks to its rear turreted design. You can dominate top-tier battles but that's about it. Do not fight alone or you may get overrun since most people know that it has a long reload.

There are much better tanks out there. Can't recommend buying it unless you are a collector of some sorts.

0
22. 08. 2022 - 166 battles - 2387 damage
Very fun 3 mark but you need to get used to the tanks playstyle
0