Cromwell B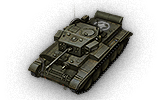 4.5 stars - 2 reviews
You must to write a review.
Reviews
22. 08. 2022 - 429 battles - 947 damage
Great tank but was better in the past, the T-34-85M is better
0
19. 09. 2022 - 89 battles - 1879 damage
Probably one of the most flexible tanks in the tier with huge outplay potential compared to other popular tanks such as the T-34-85M. Excellent mobility, a decent gun, and decent vision control stats let you build this tank both for spotting or for close-range knifefighting/brawling based on your preferred playstyle. Poor gun handling is the only thing holding this back.
0