UDES 15/16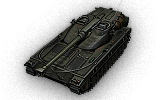 4 stars - 2 reviews
You must to write a review.
Reviews
30. 07. 2022 - 41 battles - 2541 damage
Pros:
- Excellent turret and frontal armor for ridgelines
- Very good gun depression in siege mode
- Excellent camouflage
- High alpha damage
- Good dpm

Cons:
- Not much gun depression in normal mode
- Underwhelming HEAT penetration
- Underwhelming gun handling
- Not the best viewrange
- Limited mobility
- Easy to ignite

Overall this tank is a pretty solid choice for both new and experienced players. It's siege mode and armor layout allow it to hold ridgelines even against meta vehicles and it's good camouflage and low profile make it a decent scout aswell. The hard hitting 120mm gun combined with it's high rate of fire allow it to be a sniper aswell. However the lackluster gun handling, the low penetration and it's weakness against artillery will hold you back sometimes.
1
30. 07. 2022 - 201 battles - 1829 damage
A very good tank, but sometimes hard to influence games with it. You can hold a hill alone, but only with support from behind: If the enemy rushes you - it's GG. Not the fastest medium.
0