113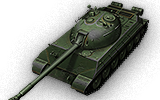 4 stars - 2 reviews
You must to write a review.
Reviews
30. 07. 2022 - 188 battles - 3636 damage
One of the most underrated tier 10s. Used to be top meta in 2016, but it's still very capable. And I find it much more satisfying to have a great battle in an underdog like the 113. There are 2 ways to look at this tank:
1. It's an Obj. 430U with 300 more HP, better accuracy, better power/weight ratio and 2° more gun depression (to the side). On the downside you lose concealment, some rotation speed and the armor on the 113 is a bit weaker than on the RU med.
2. It's a gimped Chieftain. It has WAY worse gun depression, but the mobility, DPM and the armor layout are similar to the best tank in the game. Not to mention the godlike 340 HEAT shell, instead of the crappy 320 APCR which has trouble with going through E100s reliably...

My setup: Vents / Rammer / Vstab - once you get the double setup field mod you might want to consider taking the HP module over vents on city / close range maps.

And last but not least, if you have even a single Chinese tier X already researched, you can get the 113 without any grinding. Just pay 6 mil. in the collectors' tanks section and this beauty is yours.
2
22. 08. 2022 - 108 battles - 2821 damage
Once a strong meta tank, now a weak brawler. how the king has fallen
0