Strv K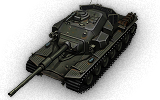 3.5 stars - 2 reviews
You must to write a review.
Reviews
31. 07. 2022 - 585 battles - 1847 damage
It s an average tank, that is a bit underrated in my opinion. It can do well, but it isn t as fun to play as other tanks.
It has a very unique heavium playstyle, that has to adapt to sluggish speed and unreliable armour, and use it s strengths, it s accuracy and view range.
It s depending on vert stabs and turbo, it profits from field mods more than other tanks, too.
0
31. 07. 2022 - 123 battles - 1993 damage
Some may not like this tank, but I personally find it to be a pretty decent heavy tank.
The tank offers a very reliable gun, decent mobility and weaker armor. Overall, however, I find this tank to be fun and even its weaker turret often holds up. You could say it's a bit of an inferior Conqueror.
Personally, I play a tank with a bounty rammer, bounty stabilizer, and with turbo (in the bonus slot), which does improve the tank.
0