Matilda Black Prince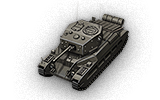 2 stars - 1 reviews
You must to write a review.
Reviews
07. 11. 2022 - 448 battles - 534 damage
This tank is too much slow, armour is not great. The cannon is good but too little ammo. I have 2 marks on this tank but it was not funny play this tank for me.
0