Tiger I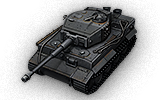 5 stars - 1 reviews
You must to write a review.
Reviews
21. 08. 2022 - 305 battles - 1610 damage
Since the buff an absolutely great tank, was good before but now its amazing. Accurate gun and fast reload with decent damage and pen for its tier. The mobility isnt exactly great, but it isnt super slow either at the 30-35 ish kmh it can maintain. The hullarmor is basically non existant for most things you face. maybe the odd tier 5 tank will bounce a shot. the turret armor on the other hand can quite often bounce tier 5-7 and sometimes tier 8 shots, but dont expect much from it either. The viewrange is great for a tier 7 HT.
Do not play it like you would play the typical HT, except maybe aganist tier 5s cause you will be dead faster than you would think. Use it like a medium tank, maybe install a turbo and and use the field mods to lower terrain resistance so it actually can do 40-45kmh with the turbo.
0