Churchill III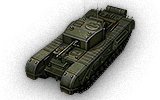 4.5 stars - 2 reviews
You must to write a review.
Reviews
07. 11. 2022 - 704 battles - 727 damage
In my opinion this tank si very good and fun to play. Cannon and DPM are great. If you use the gold ammo it is fun to play because you have so good DPM. The cannon very fast loading. Tank is slow and armour is good but not the best. I think sidecrap for this tank is good way. I have 2 marks on this tank. It was too easy get.
0
10. 12. 2022 - 365 battles - 874 damage
0