Rheinmetall Skorpion G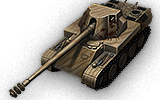 5 stars - 2 reviews
You must to write a review.
Reviews
01. 08. 2022 - 433 battles - 2238 damage
IN SHORT:
Pro: nice mobility, accurate and heavy hitting gun, turret
Con: weak armour, large profile, the gun can be very annoying at large distances when it starts to miss sometimes

It took me a few games to get used to the game-play of this tank.
It is fine and all if you play this tank at the red line in one bush for the majority of a game but don't expect to 3 mark the tank by this method.
If you are planning on getting 3 MoE on this tank, my tips are; when you see that the game is slowly ending and your team is winning, go push and attack the enemy and don't be afraid to use your Hp in those situations to maximise damage. In addition, constantly be moving around the map when you see an opportunity for free damage, this is easily doable since you have amazing mobility and a turret, unlike most tier VIII TDs.
0
22. 08. 2022 - 378 battles - 1956 damage
Best for making money very fast
0