59-16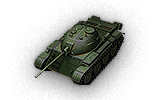 4 stars - 1 reviews
You must to write a review.
Reviews
26. 10. 2022 - 357 battles - 404 damage
59-16, is in shadow of type 64, but actually its not true, because 59-16 have really good guns, i like "big gun" more than small pew pew, but tank is very good with both guns. Cammo is luxury of this tank and in all its really fun play with this small dwarf.
0