Type 59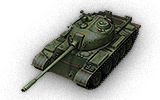 4.5 stars - 2 reviews
You must to write a review.
Reviews
01. 08. 2022 - 2352 battles - 848 damage
Great turret, solid armor, decently fast and flexible. Gun is power crept a bit in terms of pen, even with the little buffs over the years. Yes there are many better premium mediums, but this one will not see tier 10s. Preferential matchmaking these days still puts most of your games in +1 matchmaking unfortunately.
0
01. 08. 2022 - 121 battles - 2092 damage
The better option when choosing between this and the T-34-3.

The gun can actually hit far away targets very reliably, its armour stands up to most mediums and a few heavies that it can meet. But watch out for the two large cupolas.
Its dpm is great and therefore you can have many games in which you can cause 2000/3000 an average reliably.

5/5 good old reliable tank, get it whenever you can get your hands on it.
0