VK 168.01 (P)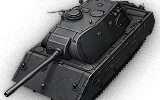 2 stars - 1 reviews
You must to write a review.
Reviews
26. 08. 2022 - 22 battles - 1814 damage
Pretty much a worse version of its tech-tree counterpart, the VK 100.01P, which is a rare phenomenon these days. This tank retains all the bad features of the VK 100.01P (bad speed/mobility and bad gun handling), but in addition it also has much worse armor, which basically gives you no reason to play this tank over the VK 100.01P, except if you want to make credits. It can still be a bully against lower tier tanks though, that's the only reason why this tank isn't getting a 1-star rating.
0