HWK 30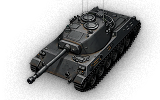 4 stars - 1 reviews
You must to write a review.
Reviews
01. 08. 2022 - 81 battles - 494 damage
Often overlooked light tank with top of the list viewrange, average camo with incredible high he penetration allowing it to have very high firepower and dpm.
HWK 30 is what rhm pzw tries to be.
0