Kampfpanzer 07 RH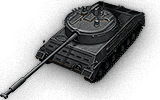 5 stars - 2 reviews
You must to write a review.
Reviews
01. 08. 2022 - 216 battles - 1967 damage
I love this tank.

Pros:
- Light tank mobility
- High camo, low profile
- Good gun depression
- Exceptional DPM and reload speed
- 90mm HE pen, with 320 alpha dmg
- Frontal armor can be used for baiting shots

Cons:
- Burns a lot
- Weak turret
- Relatively slow shell speed makes it hard to snipe
- Weak base pen of 205mm
- 200 alpha dmg

This is the ultimate light tank, you can't change my mind. Eats borr's and alike like breakfast. You can easily capture keypoints at the start and play defensively after that. Go for juicy rear shots if you can. Just dont overextend or stay exposed for long. Highly recommended for experienced players.
0
22. 08. 2022 - 202 battles - 2325 damage
SUPER fun tank and great HE
0