LT-432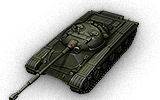 5 stars - 2 reviews
You must to write a review.
Reviews
02. 08. 2022 - 234 battles - 604 damage
One of the easiest light tanks to play and learn, its not uncommon bouncing shots even from tanks like skorpion g and su130pm.
Lt432 is easily top 3 best tier 8 light tank ranking among top 3 depends who you ask.

Lt432 has pistol for a gun but it doesnt mean that it is weak at all because with 2,1k stock dpm and very good he lt432 will melt any enemy tank it gets to flank and it will hit any shot you want even if you are moving 60kmh shooting someone from 600m away as long as you scream "RUSSIA" with all of the anger and love you can muster up.

Truly a scary and frustrating tank to play against.
0
22. 08. 2022 - 170 battles - 1780 damage
Very Fun tank to 3 mark due to its ability to 1v1 other lights very well
0