SU-130PM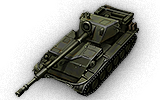 5 stars - 2 reviews
You must to write a review.
Reviews
31. 07. 2022 - 225 battles - 2041 damage
If you want a premium version of the RHM Borsig with the 128mm gun, this is your go-to tank. It has good speed/mobilty, nice camo values, (obviously no armor,) enough viewrange and a very good 130mm gun. The DPM is very nice, as is the penetration of both standard- and gold-shells, 530 alpha-damage feels great, and while the gun can troll you from time to time, you can still quite reliably count on hitting your shots most of the time.
1
02. 08. 2022 - 207 battles - 2227 damage
God camo and alpha damage.
Once you get used to the trollish gun, it is a great tank to farm silver credits.
0