Object 703 Version II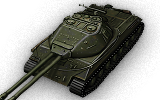 5 stars - 1 reviews
You must to write a review.
Reviews
30. 07. 2022 - 650 battles - 1766 damage
I think it is a one of the best tier 8 premium heavy tanks. You can play it like normal tank with 2 shots in the clip or fire both guns at the same time. His armor is also good at this tier and it is very powerful in hulldown. Mobility is ok for a heavy tank. Its disadvantage is the small depression of the guns.
If you are thinking about buying this tank, I definitely recommend it.
1