UDES 03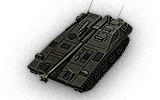 4 stars - 1 reviews
You must to write a review.
Reviews
02. 08. 2022 - 176 battles - 1589 damage
Tank itself is great, OP camo, accuracy, penetration, and damage per shot.
However, it is not easy to play, since it has zero ability to fight in close range and heavily relys on your teammates to scout.
Very conditional tank.
0