T14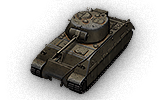 4 stars - 2 reviews
You must to write a review.
Reviews
30. 07. 2022 - 183 battles - 712 damage
Pretty fun tank for tier 5. Decent mobility, pretty good armour (the side armour means that you can angle at quite a steep degree) and ok gun, albeit will need a fair amount of premium ammo.
0
10. 12. 2022 - 327 battles - 862 damage
0