Object 780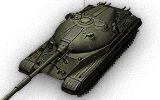 4 stars - 1 reviews
You must to write a review.
Reviews
30. 07. 2022 - 306 battles - 3350 damage
Lovely all-round vehicle. It has a great gun, which is its best feature, with the DPM and penetration being kinda on the lower end on tier 10, but it makes up for it with great gun handling/accuracy and satisfying 530 alpha-damage.

Other than that, the speed is good enough for it to not feel "sluggish", the viewrange exceeds 450m even without optics or vents (what more do you really want on a heavy tank?) and the armor is good overall, but not exactly what you are used to from russian heavies (turret can be penned by most gold-rounds for example).
0