VK 30.01 (H)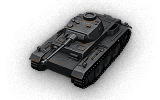 4.5 stars - 2 reviews
You must to write a review.
Reviews
01. 08. 2022 - 138 battles - 611 damage
One of the best guns in its tier, can comfortably pen tier v and even vi. Really fun to play as a spotting & sniping tank, but also fun to press 'w' and act like a heavy as it has decent armor and dpm. The only downside is its mobility, but otherwise it's certainly my favorite tier v medium.
1
22. 08. 2022 - 47 battles - 2032 damage
0