Kranvagn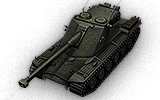 5 stars - 2 reviews
You must to write a review.
Reviews
31. 07. 2022 - 247 battles - 2543 damage
As of now, this tank is great in every way:
great turret armour with a very small cupola,
great mobility,
great fire power, combining an autoloader with dpm.
It s the most overpowered tier 10 and needs the nerf.
0
22. 08. 2022 - 391 battles - 3451 damage
Its going to be Nerfed but so far turret is super strong and is a fun 3 mark with its GD
0