TVP T 50/51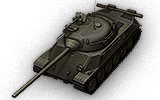 5 stars - 1 reviews
You must to write a review.
Reviews
31. 07. 2022 - 464 battles - 2820 damage
Pros:
-Its shell speed and great base accuracy lets you snipe in some situations.
-Burst damage is phenomenal (1280 dmg and 1.5s intraclip)
-Relatively fast reload time of ~21s
-Has a near light tank speed
-Relatively good camo considering its size
-All around great mobility

Cons:
- HEAT pen is not great (310mm) and is slow.


This is the ultimate tank for surprise attacks. Use your high mobility to hide in a good spot and hunt unaware enemies. In contrast to most autoloader tanks, dumping all your clip only lasts 4.5s so you dont expose yourself too much while doing it. Near perfect mobility allows you to escape from near-death situations, just dont flip yourself :D
In open maps, sniping is advisable at the start since TVP is relatively big to find a good spot to hide. End game is when this tank shines, so try to preserve your hp for trading.

As a tip, use the "bloom reduction after shooting" config so that you dont have to wait between shots. It helps a LOT.
3