ST-II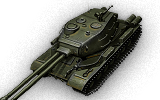 4 stars - 1 reviews
You must to write a review.
Reviews
15. 08. 2022 - 361 battles - 2062 damage
Thought this heavy certainly isn't the best russian heavy, it definitely is a fun one. It's armor is decent and gun handling is superb for a russian tank, and the cherry on the top is it's 880 double shots, super fun tank to play and line to grind, definitely recommend for any player that wants to have some fun.
0