K-91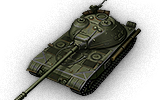 4 stars - 1 reviews
You must to write a review.
Reviews
31. 07. 2022 - 345 battles - 1727 damage
Tank with great potential, can specialize in many things , can be a fat scout , can be a dpm monster , can be a great sniper .

Armour is not something to count in but it happens to bounce some miracle shells.

Limited transverse turret and awkward gun depression gets a while to getting used to but -9 depression over the side makes it fairly comfortable.

Acceleration and top speed aren't the selling points of the tank but can be improved with equipment if so desired.

Tank is rare enough on the battlefields so not everyone knows that it's capable of autoloader like 4.5s reload and excellent sniping & spotting capabilities as well as having the fastest APCR shell in the game at 1700m/s , which at times is a bother since the HEAT flies at about 1/2 the speed and can throw you off.

Overall solid tank with it's quirks , defenetly not the most competitive op meta tank around but it can Excell at playing a bit niche playstyle.

1