S-51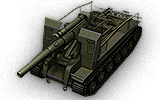 2.5 stars - 2 reviews
You must to write a review.
Reviews
07. 11. 2022 - 364 battles - 869 damage
If you want to play arty for troll and hit tanks with lot of damage this is arty for you. The top cannon very long loading but If you hit tank you do 500 DMG and sometimes more. Splash is very big. This arty is so slow.
If you want piss out enemies you can choose the second cannon. Reload is fast with stun it is very annoying.
Camo is very low because the arty is high.
0
10. 12. 2022 - 256 battles - 902 damage
0