Charioteer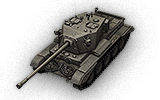 5 stars - 2 reviews
You must to write a review.
Reviews
30. 07. 2022 - 80 battles - 2849 damage
Proof that sometimes tech tree > premium. Also, intuition is a must have on this tank.
1
30. 07. 2022 - 26 battles - 2315 damage
Pros:
- Precise gun with good dpm
- Good APCR penetration
- HESH premium rounds
- Good camouflage
- High mobility

Cons:
- Low alpha damage (except with HESH)
- No armor
- Low HP

The Charioteer is an excellent and versatile sniper with great mobility and camouflage, that only lacks some kind of armor. However due to it's very useful HESH and good HE rounds you can still trade equally with tanks like the Skorpion G. Overall this is one of (if not the) best tier VIII tech tree tank destroyer.
0