Strv 74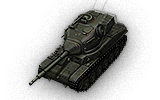 5 stars - 2 reviews
You must to write a review.
Reviews
30. 07. 2022 - 233 battles - 1220 damage
Quite possibly my favourite tier 6 (not saying much I know). Amazing gun handling, amazing gun depression and doesn't move like a barge boat to boot. Plink away from mid range, find weird angles and put the gun to work. It won't be for everyone, but it's one of the better experiences, and fairly indicative of higher tier play, as in the tank doesn't have a fire hose gun and can influence battles handily.

Despite the Kran nerfs, the rest of the line is actually good too, I even have a soft spot for the derp Leo a tier higher. A must play in my opinion.
1
30. 07. 2022 - 97 battles - 922 damage
Great Tank in my opinion
It has great gun handling, good penetration on standard and premium rounds and 15° gun depression
The only downside is the non-existing armor
0