M4A3E8 Sherman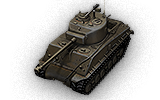 4.5 stars - 2 reviews
You must to write a review.
Reviews
01. 08. 2022 - 34 battles - 723 damage
Good versatile medium with surprising turret armour good viewrange and decent mobility making it one of the most reliable mediums at lower tiers despite kind of derpy gun.
Highly recommended if you just want to have fun.
0
10. 12. 2022 - 106 battles - 806 damage
0