E 50 Ausf. M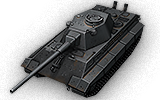 5 stars - 2 reviews
You must to write a review.
Reviews
02. 08. 2022 - 163 battles - 1437 damage
The E50M is a decent tank. It has barely enough frontal hull and turret armour, a good gun and good mobilty.

Armour
It has 250mm of turret armour, able to bounce alot of shells. Especially if you wiggle your turret, since the sides are auto-ricoshet angles. But easily penned by gold on the front. If you use your gun depression, its impossible for tanks that are not TDs to penetrate it WITHOUT gold. Frontal HULL armour is fairly good, able to bounce alot of shells too but easily penned by gold, just like the turret.

Firepower
The 105mm Gun is also decent. 390 Alpha with 270mm of pen, 330mm with gold. 9.2 Seconds of reload and 2542 dpm. Has very good gun handling with 0.29 dispersion and 2.01 seconds of aim time. and 20° of elevation and 8° of depression too.

Mobility
60km/h top speed, 20.36 hp/t. 62 Tons make it a very good rammer, adds way more fun in todays WoT. (Beware of soft terrain, makes it way slower)

Others
400m of View range
(I ran out of things to say)

Overall.
Its a very fun and good tank, but pretty hard to use. Dont try to camp because of its horrible camo but dont try to play it like a heavy since its armour isnt too good. Try to support the heavies. You could also go to a medium position since its pretty versatile.
Try to be hulldown at most times and keep your lowerplate covered.

Suggested equipment is Vents, Gun Rammer and Vertical Stabilizers.

Thanks for reading this review and sorry if i got something wrong since i havent played this tank too much.

0
22. 08. 2022 - 216 battles - 3409 damage
Great Med, you can take alot of fights and rotate fast
0