Nashorn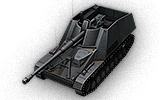 3.5 stars - 2 reviews
You must to write a review.
Reviews
01. 08. 2022 - 38 battles - 787 damage
Nashorn kind of overlooked tank but plays out basically the same as stug 3 g but tier for tier little worse.
Nashorn has high dpm and rate of fire which can melt enemies very quickly.
Biggest weakness is probably lack of gun depression.
0
10. 12. 2022 - 136 battles - 540 damage
0