T-10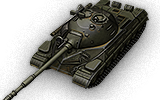 4.5 stars - 2 reviews
You must to write a review.
Reviews
01. 08. 2022 - 177 battles - 2619 damage
Overall great heavy, requires a bit skill to make the most of the mobility and relatively soft hull. Also just sitting still hulldown isn't really great strat either, as the turret roof is overmatchable by most heavies. Use your mobility to surprise your enemies from behind a corner, touch them in the no-no-zone with your 340 heat and retreat like France in ww2, rinse and repeat.
0
10. 12. 2022 - 457 battles - 1816 damage
0